Full Moon Gallery is an art exhibition space initiated and hosted by Jugend- & Kulturprojekt e.V. – JKPeV on Hechtstr. 17 in Hechtviertel Dresden with the express intent of creating a space and environment to allow local and international visual artists to feature their work in an innovative way; on the windows of the Full Moon Gallery every full moon. Artworks are facing not the inside space but the outside world which makes art more accessible and inclusive. Whether paintings, drawings, photos or graphic art, the main concept is to allow the spirit of free ideas to flourish, and then to present the result of that effort to the community.
A new exhibition that displays the works of one artist is inaugurated every full moon night. For three consecutive nights, the artworks are lit up all night long. The visitors have access from the street to see the artworks hanging on the windows of the Full Moon Gallery. This way, the Full Moon Gallery is open to everyone. Feel the art by joining the art exhibitions of the Full Moon Gallery! Experience a mesmerizing journey of the full moon's magnetizing effect discovering art in an unusual way.
"Let us unravel our inner creativity, explore our hidden
desires and dreams"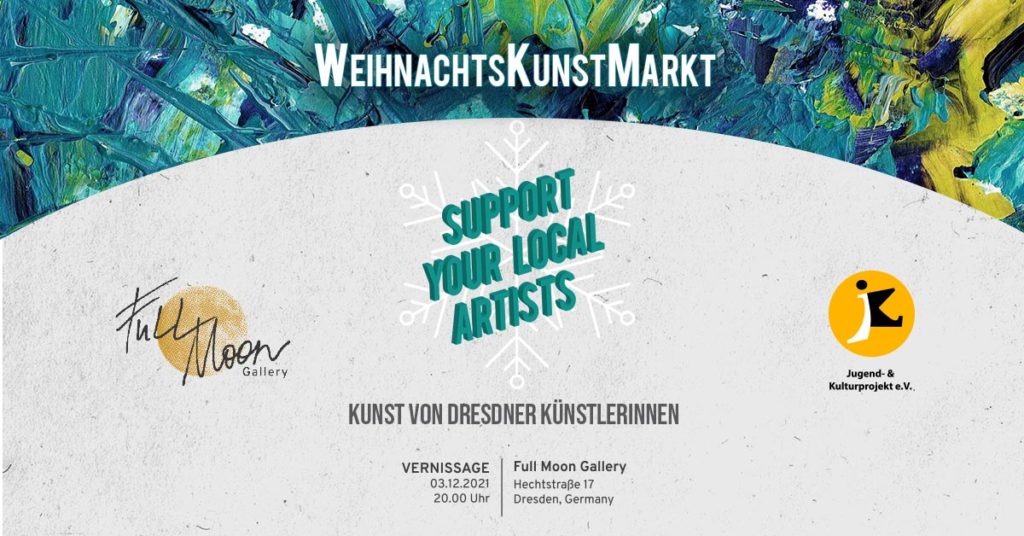 03.12.2021 – 06.01.2022
In der Weihnachtszeit werden die Heinzelmännchen wieder dafür sorgen, dass einzigartige Kunstwerke von verschiedenen lokalen KünstlerInnen in den Galerie-Fenstern der Full Moon Gallery Tag und Nacht ausgestellt werden. In der Zeit von 15:00 Uhr bis 01:00 werden die Kunstwerke illuminiert.
Am 03.12.2021 20:00 Uhr
findet die Vernissage der Ausstellung statt, bei der die KünstlerInnen anwesend sein werden. Das ist genau der Moment, wo es möglich sein wird, mit ihnen ins Gespräch zu kommen und beim Kauf eines Kunstwerks auch gleich noch die Gedanken der KünstlerInnen mit zum Weihnachtsgeschenk dazu zu bekommen.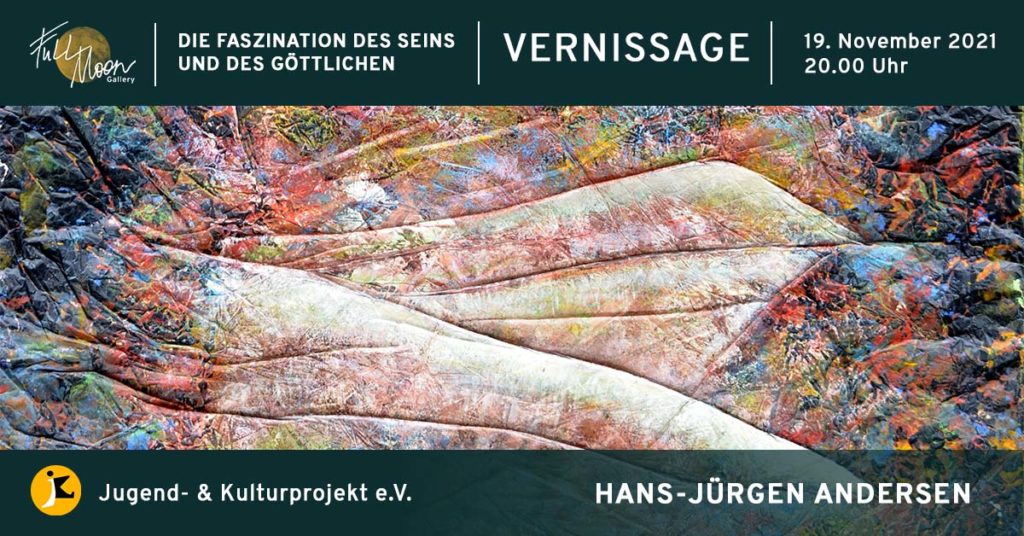 Just in time for the full moon in november, Hans-Jürgen Andersen celebrates the vernissage of his exhibition "Faszination des Seins und des Göttlichen". He will present a selection of his painting-graphic collages at the Full Moon Gallery on 19 November 2021. The painter himself will accompany the evening musically on the guitar with self composed songs.
Born in 1949, the poet, composer and painter graduated from the Dresden Academy of Music in 1975. In the same year he also began working as a freelance musician. He has been a member of the Künstlerbund Dresden e.V. since 2002.
In the course of his work as a songwriter, Hans-Jürgen Andersen realised that not all his feelings and illusions could be captured in sound and words. So over time he developed into a two-way artist and devoted himself more and more to painting. With his unique technique, he brings life out of the most diverse materials. His fascination with being and the divine is poetically mirrored in his paintings.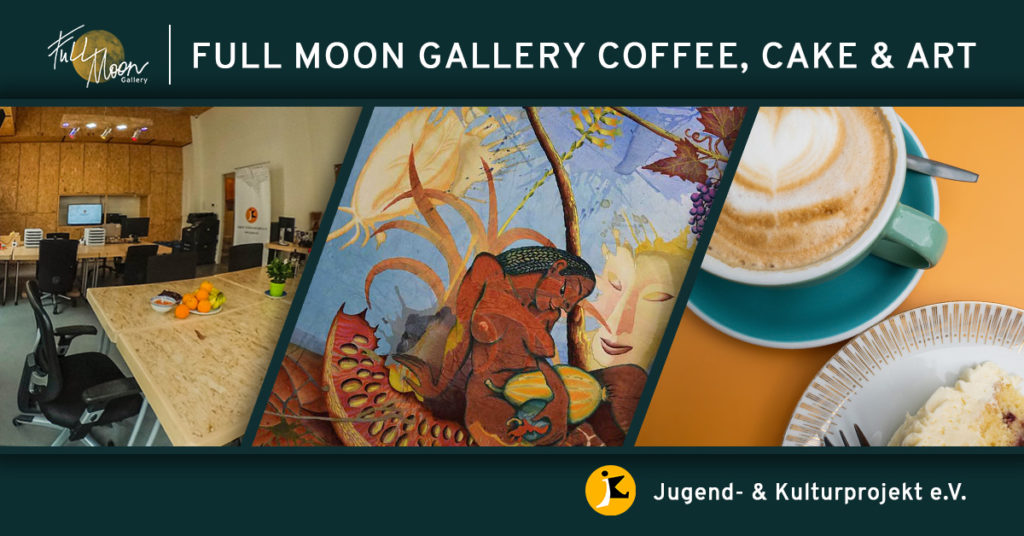 Full Moon Gallery would like to invite you for a cup of coffee or tea and a chat on "How art is done".
At the event, you will have the possibility to meet other local artists, have an exchange of good practices and on experiences how to approach galleries. Maybe you even want to plan a future exhibition together? From 20pm on you have the chance to attend the vernissage of the the exhibition "DIE KUNST IST EIN ABENTEUER" by Leonore Adler.
So bring yourself, bring a business card or some photos of your artwork and most importantly bring good mood!
Die Kunst ist ein Abenteuer
And for me, that begins in the studio and on my own doorstep. Many people think you only experience adventure when you are far away. But that's not true! I can experience adventures everywhere, I just have to discover them and get involved in uncertainty, get out of familiar rituals, do something different. I like to experiment with color and form. The white of the painting surface becomes a challenge. The first application of paint becomes the "big bang" from which everything else develops. The Assemblage allows a playful approach to the means. Old layers are partially removed, remains are overlaid by new layers. Like our memories, which are partially forgotten or reinterpreted and changed by newer memories. My work is process-bound and the result is therefore not predictable. Therefore, my paintings are never "finished", rather they are in a temporary state of rest. Some stay that way. Others I bring out again after some time and rework them again. Whether they become better thereby, I do not know. What is important for me is that they change.
Unfortunately, we will not be able to celebrate an opening, but the exhibition will be on view from May 26. For the best impression, we recommend visiting the gallery windows starting from 18:00 in the afternoon.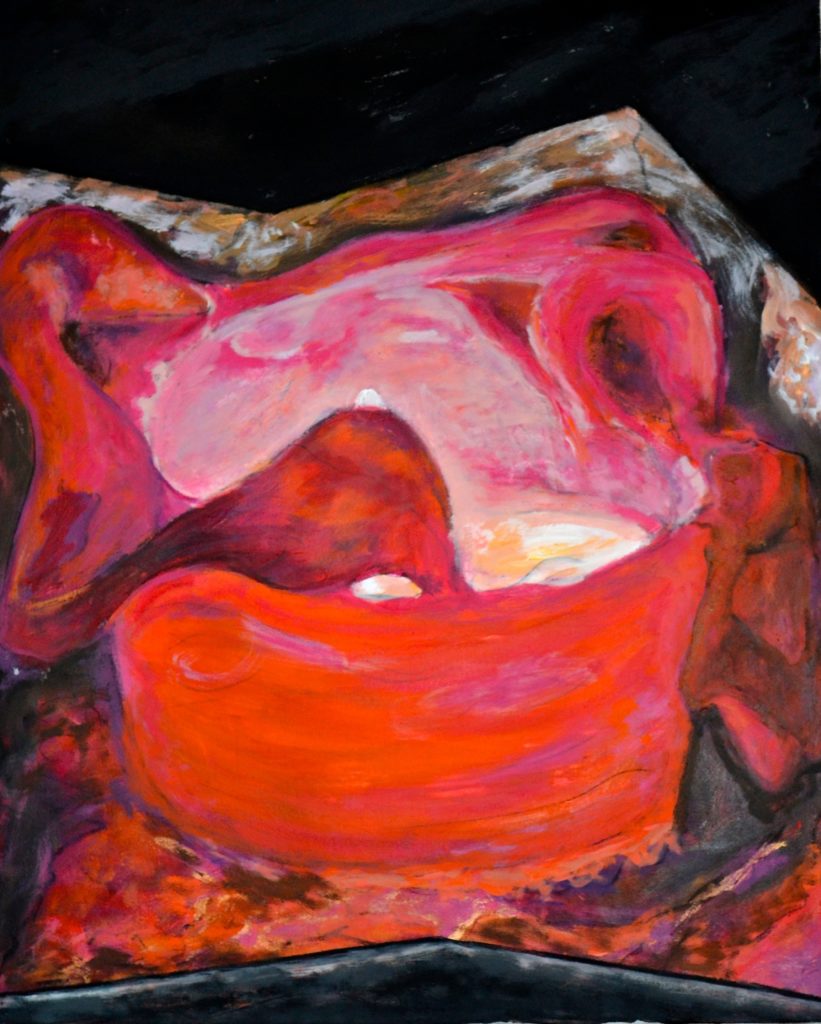 Ausstellung - About Beauty and Truth
27. April 2021
We are very pleased to open the exhibition "About Beauty and Truth" by Joachim Rauch on April 27.
Unfortunately, we will not be able to celebrate an opening, but the exhibition will be on view from April 27. For the best impression we recommend visiting the gallery windows starting from 18:00 in the afternoon. Because then it is fantastically illuminated.
Peter Koch 27 FEBRUARY – 15 MARCH 2021
Peter Koch originally comes from the Baltic Sea and has been living in Dresden as a freelance artist for over 30 years. He moves very virtuously between painting and music. He enjoys every moment in which he can express his feelings in creativity.
During his studies, he built up contact with some well-known artists of the GDR like Dieter Weidenbach, Horst Peter Meyer and Joachim Kuhlmann to learn from them. He focused on maritime impressions and moments of village life.
Peter Koch loves aesthetics, likes to live, and work by instinct, and in recent years has developed a penchant for the experimental.
Unfortunately, we will not be able to celebrate an opening, but the exhibition will be on display from February 27 to March 15, 2021. For the best impression, we recommend visiting the gallery windows starting from 16:00 in the afternoon. Because then it is fantastically illuminated.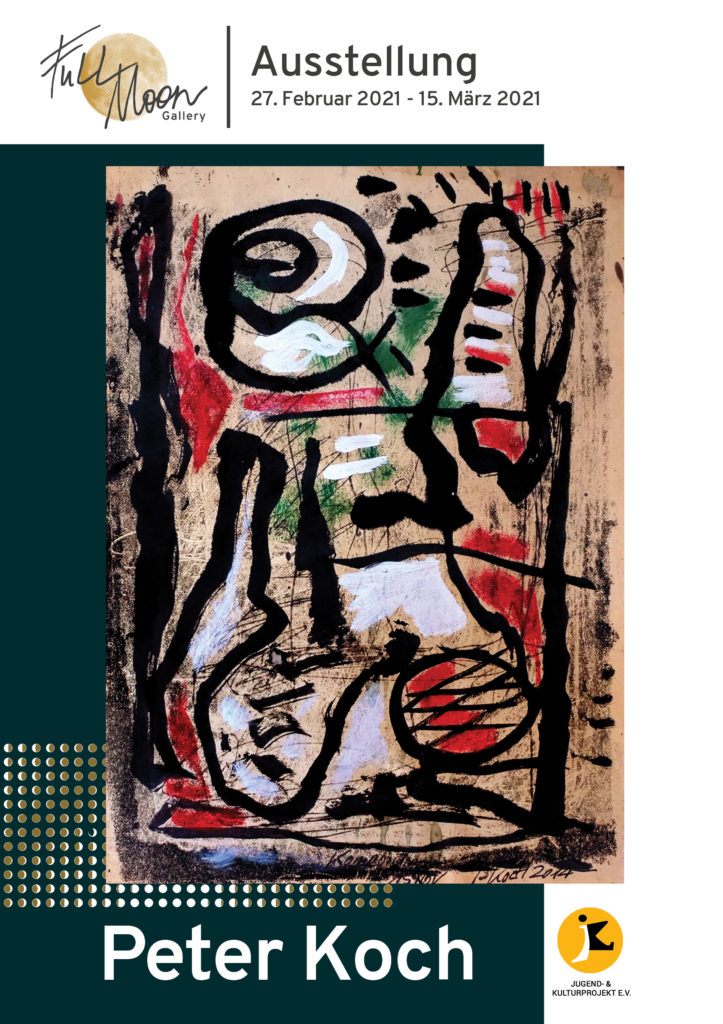 "Support your local artist" initiative is a solidarity action of Jugend- & Kulturprojekt e.V. to the Dresden artists by giving them the window space of Full Moon Gallery as a constant art market till the end of the lock down. If you want to support the artists come around and buy unique art for very fair prices.
Exhibition 28. January 2021 till 5. February 2021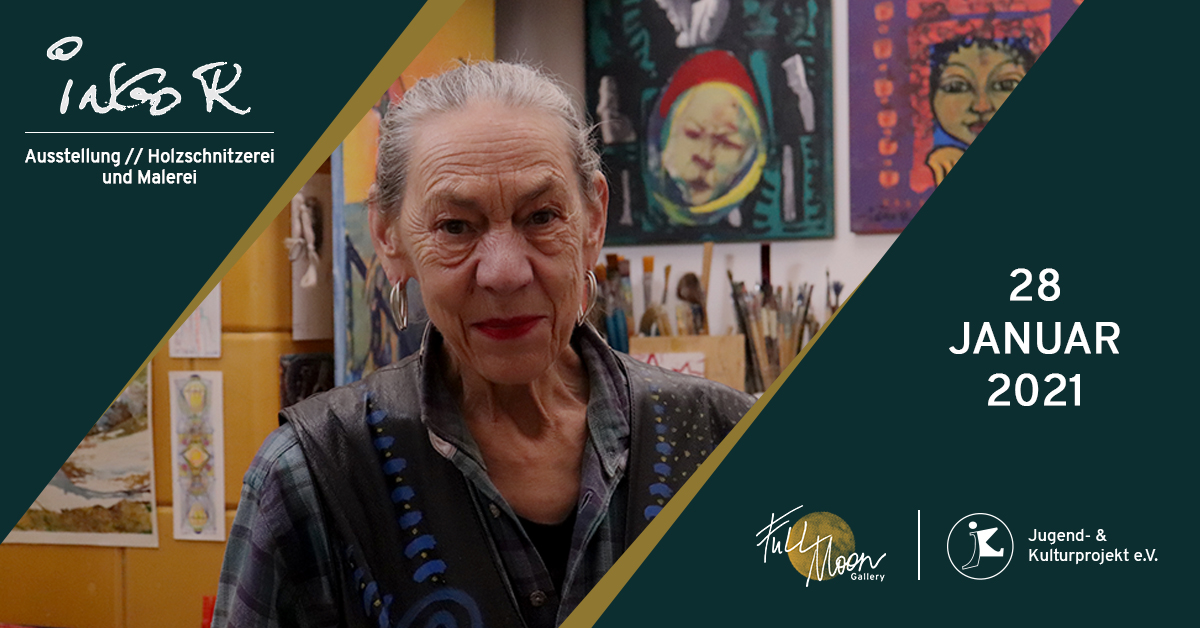 Art market 19. December 2020 till 10. January 2021
Jugend- & Kulturprojekt e.V. continues to surprise you with creative solutions in difficult Covid-19 times! This time as a part of the Hechtviertel-Adventskalender, we invite you to come around and enjoy our upbeat Christmas Market Outdoor-Gallery. As we are well-known for supporting art and culture, we determined to keep our faith in providing opportunities to local and international artists to exhibit their art pieces. From 19th December 2020 till 10th of Jnuary 2021 you are welcome to purchase excellent and unique art works for a very good price value at JKPeV's progressive and interactive art and culture space.
Artists: Peter Koch, Anne Brand, Enas Arabi, Jakyeong, Alexsandra Vagabonda, Hana Hazem Arabi, Angel Vasilev and Valeria
Exhibition 05. December 2020
The 'Full Moon Gallery', successfully initiated by the Jugend- & Kulturprojekt e.V., will proudly host the exceptional 'Corona Moon' exhibition on 5th of December. In particular, we will have the honour to present selected paintings and graphics from the deceased artist Ljuben Stoev. The visitors will be able to see selected artworks from the period 2008 – 2015 "Die andere Stadt – Blick von oben" and earlier period 1977 – 1987 "Seemänner und Dritte Welt".
Unfortunately, we will be not able to have an opening celebration, but the exhibition will be visible from the 5th until the 7th of December. For the best viewing experience, we recommend you visit the gallery windows from 4pm onwards.
Exhibition 31. October 2020
We couldn't imagine a better way to celebrate altogether the full Halloween moon and the so-called "hunter's moon" than hosting in our Full Moon Gallery the fabulous 'Maskerade' exhibition by Enas Arabi! Under the gleaming lights of KulturCentrale, on the 31st of October, numerous passionate aesthetes gathered around this Syrian artist to admire her compelling new art projects. The participants were thrilled by the mysterious theme of 'masks' as – literally and figuratively – masks have always been a delicate way to hide valuable secrets, personal emotions and at a nutshell our 'true' face.
Exhibition 01. October 2020
Painting and graphic by Ana Pireva
There's hardly any better way to welcome October to the Full Moon Gallery of JKPeV than the opening of the artist Ana Pireva's ′′ Harvest Moon ′′ exhibition! And what a huge success! More than 70 visitors used the clear full moon night and the radiant harvest moon to admire a series of watercolors and ink drawings by the Bulgarian artist currently studying at HfBK Dresden.
Jugend-& Kulturprojekt e.V. is proud to artfully illuminate Ana's works in the full moon gallery areas. Folkloristic references from Bulgarian traditions, the gathering of spirits mixed with still vibrant legends and myths, fascinated and inspired many visitors who also had the opportunity to share their thoughts and feelings with the artist.
Exhibition 02. September 2020
Painting by Angel Vasilev
On the 2nd of September, the Full Moon Gallery opened its windows to the local artist Angel Vasiliev who presented his exhibition "Vielleicht Gestern". The artist explained that the name "Vielleicht Gestern" or "Maybe yesterday" is a funny reminder to himself not to leave the work for tomorrow and be productive artistically in the here and now – the best time for that having been already yesterday. At the exhibition of the Full Moon Gallery Angel presented six artworks that were inspired by two years of traveling. His art however inspired us to organise our next exhibition on the 1st of October. More details about that will follow soon!
Opening of Full Moon Gallery
and Exhibition by Jakyeong
On the 3rd of August 2020 at 21:00, JKPeV inaugurated the Full Moon Gallery in the heart of the Hechtviertel in Dresden, with the opening of the art exhibition "Facebook" by the inspirational and talented artist Jakyeong from South Korea. Jakyeong in her works captures the unfamiliar faces of the local passersby in different places she has been to. The combination of Korean and Western motives in her artworks is strongly connected to the human nature, the way we keep our feelings, anxieties, weaknesses and insecurities to ourselves and wear the mask of confidence, success and strength in the outside world.
Jakyeong's paintings display controversial characters in vivid, bright and captivating colours. As she highlights, the flamboyant representation of tigers on her artworks reveals a strong link to the east Asian culture, symbolising power, success and magnificence.
Despite the challenging Corona times, many people joined the opening of the Full Moon Gallery. It was a friendly and lively atmosphere where people from different age groups and lifestyles mingled and had the chance to meet in person the artist and talk with her about her work. JKPeV is glad to offer a brand-new setting of an out-of-the-ordinary gallery for locals to join our art exhibitions while having a casual walk under the full moon light.
We are looking forward to seeing you at the opening of the Full Moon Gallery's new art exhibition under the title "Maybe Yesterday" by the Bulgarian artist Angel Vasilev on the 2nd of September. Come over and join us under the full moon light!